I love this article. Silverback stepping up and calling out the Defense.
http://www.post-gazette.com/pg/08229/904845-66.stm
I'm glad to see someone gives damn.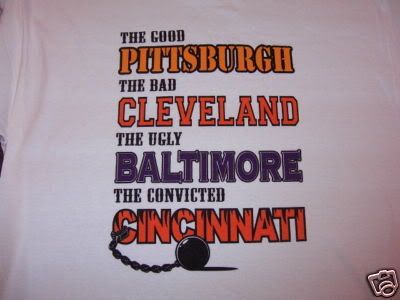 ---
Practice Squad
Posts: 19
Joined: Fri Jul 25, 2008 6:20 am
Damn right Silverback!! I'm glad to see someone on the defensive side of the ball take a leadership role. He's right on the money about playing the preseason like a real game no matter how long you are in there. Let's see some fucking intensity and I hope it starts with the words and actions of #92.....
---
Practice Squad
Posts: 30
Joined: Fri Aug 15, 2008 4:03 pm
Location: Canonsburg,Pa
It's scary to imagine how good the Steelers D would be if half of those guys had the Silverbacks intensity. Just looks like to me they're going thru the motions and is happy to be making a big paycheck.
---
It's good to see someone step up as a leader. The preseason is just preseason and is often
not
an indicator of how the regular season will go. At the same time, if the team convinces themselves that they are better than they are, with the schedule they have, they could be behind a huge 8 ball in a hurry.
I love Harrison's tenacity on the field. Let's hope everyone hops on his coat tails and starts following in his footsteps.
---
I love this stuff by Harrison. A copy of it should be pasted on each Steelers player's locker, and I hope he says the sames things to his teammates behind the doors. He has to speak up and I think he can. He played the Bills game as if it meant something, that was obvious to every one of us, I believe.
---
Greenhorned Rookie
Posts: 70
Joined: Tue Jun 24, 2008 3:38 am
Translation: "Hampton, get your fat ass into shape!!!!"
---
Grizzled Veteran
Posts: 439
Joined: Wed Jun 04, 2008 6:01 pm
James Harrison does not seem to agree with the rest of his teammates. He is not buying the excuses that the Steelers' defense is not playing very well merely because it is the preseason and the unit is not game-planning for the opponent.
I'm not buying it either. Coach Tomlin was really mad during Thursday night's game. Kudos to Harrison for stepping up and telling it like it is.
---
Seasoned Veteran
Posts: 114
Joined: Thu Jul 10, 2008 8:15 am
If we start Hampton, it's gonna be a very long season, this D'line is decidedly shaky, even without a tub o lard center stage!

Young, athletic, aggresive D'lines ala NY GIants win SB's.

We have the weapons offensively to maybe compenstae agianst some opponents,
but I'd be astonished if our Run Defense is anywhere near as effective as it was last season.

Hey I can see it, and I'm on the other side of the atlantic!
---
Who is online
Users browsing this forum: No registered users and 0 guests